Who is the person behind Typewrite Transcription and Typing Services CC?
Gaynor Paynter – a short bio
I was born on the 21st of March 1975 in Kensington, South Africa, and, with the exception of a few years after I was married in 1996, I've lived here my whole life.
I went to school at Leicester Road Primary School and Jeppe Girls High where I matriculated in 1992 with a university exemption and half colours for chess (I was the captain of the chess team and was on the tennis team too).
After studying graphic design for a year, I decided it wasn't for me and did a secretarial diploma at the then Germiston Technical College (in which I obtained a distinction in Information Processing, a fancy name for typing).
I always had an entrepreneurial flair. During school I sold artwork through advertising in the Top 40 Music Magazine, for R5 a piece! (Lots of drawings of Michael Jackson were done at the time!) I also worked part time in the local Checkers.
A lot of firsts
My first full time job was at a company called KMI in Heriotdale in 1995 where I did reception and admin – and where I was exposed to transcribing for the very first time, transcribing notes made by one of my bosses on a small microcassette recorder!
In 1996 I married my first, only, and still current husband, Damian, and my first son, Andrew, came along in 1998. During this time the development of technology was moving fast. Our first cellphone was the Nokia 2110 and it was an amazing phone which we shared. The very first time I went on the internet was in KMI's showroom, during a lunch break (I surreptitiously snuck in to go on to say I'd been on!)
Getting older and getting experience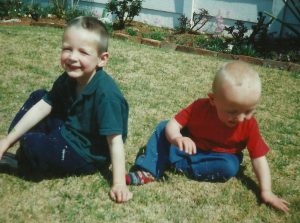 The company ran into some difficulty and I was retrenched in the year 2000. I advertised to do typing work and did some temp jobs. I then fell pregnant with my second son, Brandon – but one employer took me on 'semi permanently which became permanent' – at a recruitment company, where I prepared CVs and interviewed candidates.
The birth of Typewrite
By 2005, the internet had progressed enough for me to 'birth' Typewrite Transcription and Typing Services CC. For three months, I worked at the recruitment company during the day, and on Typewrite by night, all the while with a husband and two little boys.
The 1st of April 2005 was the first 'official' day of Typewrite, although it didn't come to be registered at CIPRO (now CIPC) until 2009.
Milestones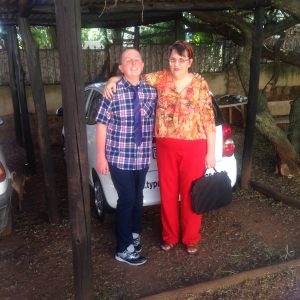 Various milestones flag this journey. When I started I still had dial up internet. I had to soldier on with this for about a month until our ADSL was installed. You also have to have a back up internet and I've been through various of those, until my current 'back up' – my MTN cellphone. (I've had the same number since 1995, by the way!) Services provided have also grown and diversified – starting out with typing, adding transcribing, adding proofreading – and just recently, adding sub-titling.
Becoming an author
In 2009 I wrote my e -book "Working From Home as a Transcriptionist in South Africa" which is a great resource for those starting out today – as I found when I started out, there wasn't much if anything in the way of support!
TAVASA
The same year my friend and colleague Alison Fourie and I founded TAVASA – the Transcriptionists and Virtual Assistants of South Africa.
The future
Today, going into 2018, the company is still in existence – we've been married 21 years, and those little boys are now 17 and 19. I've had the support of my husband, parents, children – and my two dogs, Scooter and Shadow. I'm looking forward to seeing what the future holds.
Tweet