BRAND NEW SERVICES:
WE NOW OFFER A CONSULTING SERVICE IN BUYING AND CUSTOMER SERVICE.
Now offering a pensioner's discount. All you have to do is email or  Whatsapp me a pic of your pensioner's card and you'll qualify for a generous 15% discount on all rates published here.
Rates before discount listed here
Generator is up and running and I am able to work during loadshedding.
Typewrite Transcription and Typing Services CC (in operation since 2005) offers proofreading, editing, transcribing and typing services including basic typesetting (MS Word and InDesign). The company is based physically in Johannesburg, South Africa  and virtually in the rest of  the world, via technology.
I, Gaynor Paynter, am the sole employee of the business. I make full use of the internet to offer digital transcribing and online typing services to clients in South Africa and internationally, making extensive use of the internet, Dropbox, WhatsApp and other technology which facilitates our services.
However, I'm also happy to work in person and clients are welcome to deliver work to the premises should they find this easier. I am also happy to train you on using the internet to submit work.
Offering all transcription and typing services including:
interviews,
disciplinary inquiries,
meetings like AGMs,
conferences,
reports,
manuscripts
dictated notes from students and professionals (such as forensic teams, translators and radio show hosts)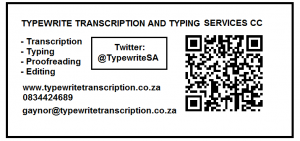 I prepare transcriptions for companies who specialise in recording offering a one stop solution.
Expertise extends to assisting with document preparation such as creating minutes from transcripts.
I also offer proofreading, editing and CV writing (click to see more).  For a long time I worked in a recruitment company and am proficient and skilled with writing CVs.
When requesting a quote it will save time if  you provide as much information as possible. These are all things I will need to ask if you don't provide it:
Language
Turnaround time
The length of your audio (if transcription)
The character count including spaces (if editing / transcription)
Specifics like font size, spacing etc required
Prior to starting my business in 2005, I worked in administration and related positions for 10 years. I also completed an N5 Secretarial Diploma.
For government entities, Typewrite's Central Supplier Database (CSD) number is: MAAA0593910
I'm the author of an ebook: "Working from Home as a Transcriptionist in South Africa". This is the definitive resource for people wanting to start out in this field today. It's based on the experience I've gained over 14 years of working in the field and it sells for R130.
There's more about me on my LinkedIn profile which is fully up to date, and you can keep up with me on my Facebook, Twitter or Google Plus pages.
Email: gaynor@typewritetranscription.co.za
Phone: Whatsapp / Call: 0834424689
Transcribers:
Please don't contact me looking for work unless I've specifically advertised asking for people. IF I'm looking for someone you'll find it on my Facebook page , my Twitter page or the WhatsApp group our support group TAVASA has (you can message me to be added to this).  My ebook is available and gives all the info as to how to work in this industry. Also watch out for the mentorship programme we'll be starting soon.